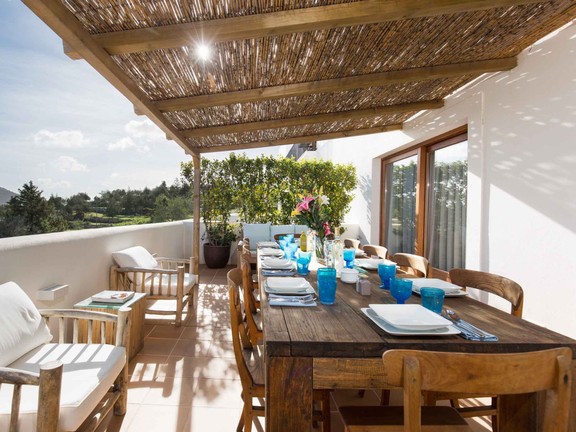 Do everything right with the long-term rental of a property in the village of San José
---
You would like to spend a long time in Ibiza and have not yet decided on a specific residential area. How about the charming village of San José in the west of the island? From here you can not only get to Ibiza's wonderful beaches and bays. At the same time, a diverse range of restaurants and bars awaits you. Rent a townhouse or a villa in San José! With the Engel & Völkers rental department, you will quickly find a long-term rental property that will convince you.
Pure relaxation awaits you in San José – rent an excellent property here
You can relax in beautiful San José. Look forward to a diverse selection of restaurants and bars that are open all year round. There are not only great pizzerias, but also traditional pubs and bars that convince with ice-cold cocktails and live music. In addition, you can get everything you need for the daily needs in your villa for long-term rentals in the supermarket. You can also find nice souvenirs in the small boutiques. Climb Sa Talaia, one of the highest mountains in Ibiza, from the top of which you have a stunning view of the whole island. Or take a walk on Ibiza's most beautiful beaches. The beach bars are closed in winter, but it is still worth a walk to enjoy the sun. The beach of Cala Tarida with its crystal clear water is just a 10-minute drive from San José, just like the bay of Cala Vadella. It is surrounded by hills with pine trees, a paradise for nature lovers! Cala Molí, a small, secluded beach located between Cala Vadella and Cala Tarida, is also suitable for long walks.
You will love this stylish long-term rental townhouse in San José
Our team at Engel & Völkers rental department would like to present this high-quality long-term rental town house in San José to you. There is plenty of space for you and your family or friends on three floors. You can spend pleasant evenings in the large living room, with a fireplace providing a cozy atmosphere. There are not only four bedrooms with access to the respective terraces, but also three bathrooms. On the roof terrace, a Balinese bed and hammocks invite you to relax in the open air! From here you have a wonderful view of the Ibizan landscape including a mountain panorama. With the long-term rental of this dreamlike town house in San José you do everything right.
Are you interested in the entire range of properties that are eligible for long-term rental on the island? You can access our portfolio here.
If you'd like to buy a house or a villa, please click here.