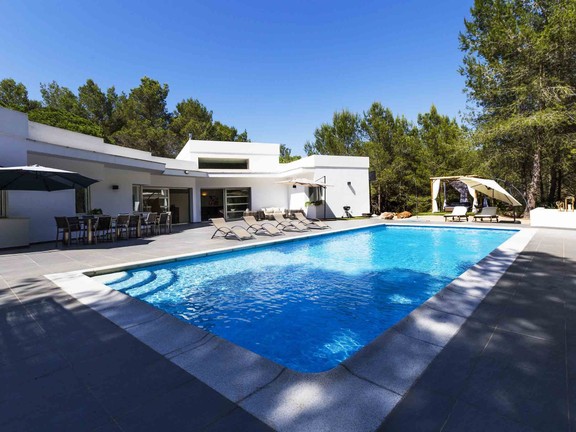 Enjoy an unforgettable time in a villa for long term rental in the charming Santa Gertrudis in Ibiza
---
There's no island you know better than your favorite destination Ibiza. That's why you decided to rent a villa or house in Ibiza long term and spend more time than usual on the island. Engel & Völkers' Rental Department recommends the beautiful residential area of ​​Santa Gertrudis, located in the center of the Balearic Island. The idyllic village is one of the island's most charming and laid back residential areas and is sought after by locals and visitors alike. Realize your desire for the long-term rental of a villa or a house in Santa Gertrudis and contact the rental department of Engel & Völkers Ibiza with all questions related. Santa Gertrudis as the location of your villa or your home for a long term rental is a great choice that will take you to Ibiza Town within 10 to 15 minutes.
Rent a villa in Santa Gertrudis, the village knows how to inspire on many levels
The arguments in favor of the long term rental of a villa or house in Santa Gertrudis are numerous. Excellent restaurants and diverse shopping opportunities are right on the doorstep of your rental property! You can also enjoy cool drinks in the bars around the market square of Santa Gertrudis. The popular village in the heart of Ibiza really leaves nothing to be desired! Furthermore, Santa Gertrudis is the location of Morna International College. There, the students are offered not only a quiet environment, but also particularly good technical equipment like iMacs, iPads and laptops. The college also houses three IT suites and continues to evolve. Students from nearly 20 nations, ages 3 to 18, attend Morna International College. Get advice from Engel & Völkers Ibiza's rental department and rent a villa or a house in Santa Gertrudis. Spend an unforgettable time here!
Our rental experts will show you the most exclusive properties in Santa Gertrudis
If you want to enjoy the full range of luxury offer during your stay in Ibiza, then we have the right property for you. This elegant newly built villa for long term rental in Santa Gertrudis may already meet your expectations! The property does not only convince with great facilities, but also with a natural environment. The villa is surrounded by a pine and almond tree forest and therefore offers living close to nature. The large living room invites you to relax or spend convivial evenings with friends. The fireplace provides a cozy atmosphere. Likewise, this villa for long term rental is equipped with air conditioning, a beautiful garden and a terrace complete the property.
Are you interested in other attractive residential areas on the island? Discover the best properties for long term rental in Ibiza with the rental department of Engel & Völkers.
If you'd like to buy a house or a villa, please click here.