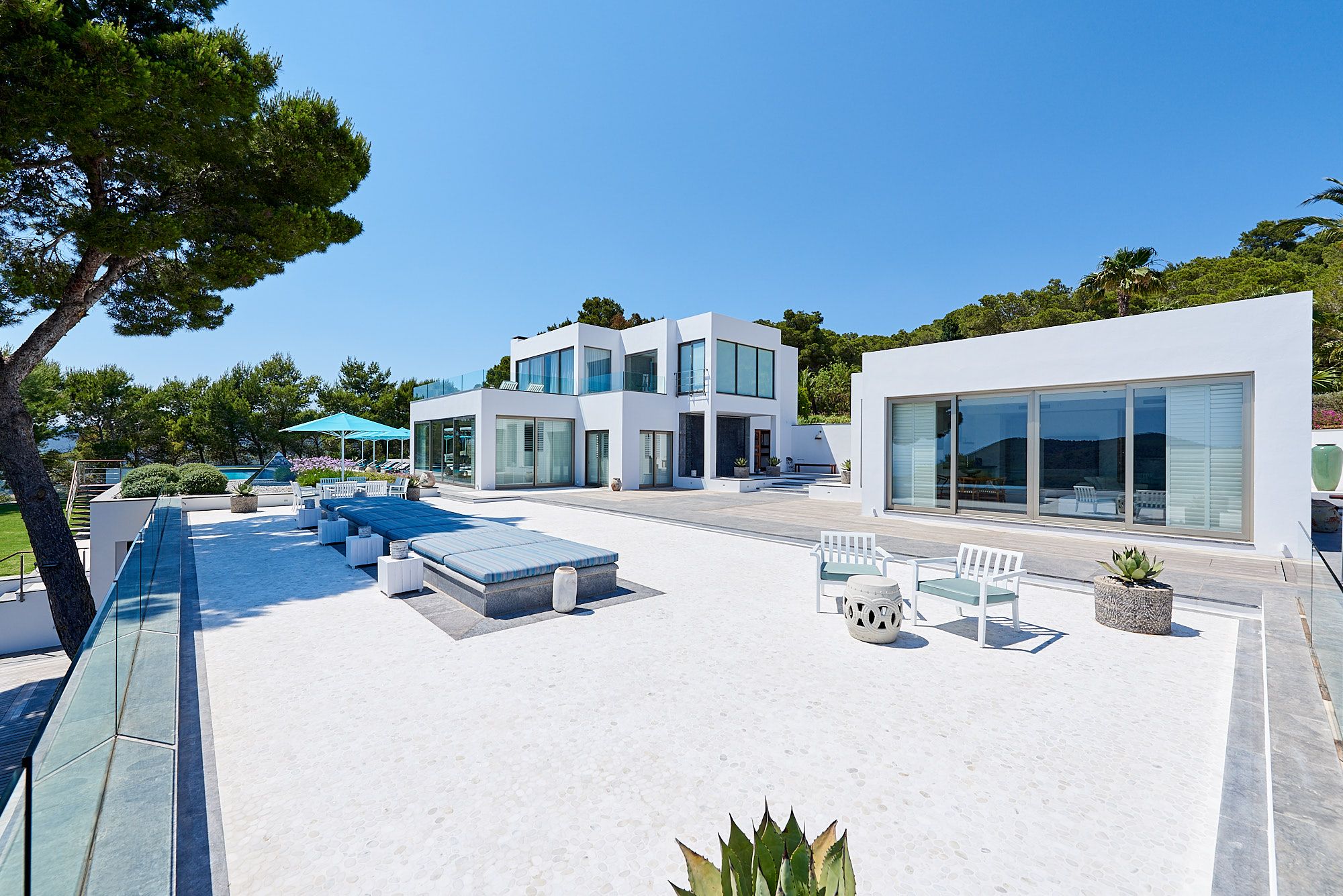 Start planning your next vacation in a villa for rent in Ibiza
---
Is every vacation in Ibiza a personal highlight of the year for you? Then start planning your next vacation in a villa or family house for rent in Ibiza! The Engel & Völkers rental department supports you in making all the important preparations for the rental of a high-class family home or a stylish villa. We particularly recommend the sought-after Ibizan residential areas of San Carlos, San José and Jesús. Don't hesitate any longer and reserve a villa or family house for rent in Ibiza – and make your next vacation an unforgettable experience!
Enjoy your 2020 vacation in this beautiful villa near San José
Have you ever been to the beautiful village of San José? It is located right at the foot of Sa Talaia, Ibiza's highest mountain. There are exciting restaurants and bars where you can treat yourself to delicious drinks and Mediterranean delicacies during your vacation. This includes i.e. the Cas Costas, one of the best restaurants in Ibiza. It is known for the delicious grilled meat dishes and is also characterized by a beautiful ambience with sofas, verandas and lush vegetation. If you want to enjoy the nightlife, you should also stop by Cova Santa: here you can enjoy delicious food under the stars or attend various parties. The Blue Marlin Ibiza is also very popular with celebrities. Parties take place every day until late at night, but it is also a great place to relax. For example, El Destino is one of Ibiza's most popular restaurants. The popular El Destino will surely exceed your expectations. Here you can enjoy tapas in a variety of ways: Mediterranean, African or Asian. The Engel & Völkers rental department recommends that you reserve a table here! Do you want to rent a villa near San José? Then we would like to recommend this stunning property for rent, which promises pure luxury and is located on the road from Ibiza to San José. From this dreamlike villa you have an impressive view over the southern mountains of the island, the Mediterranean Sea and Salinas. The main house of this villa for rent near San José is surrounded by more than 1,500 m² of terraces decorated with ponds, waterfalls and fountains. You can spend relaxing hours in the 17 x 7m infinity swimming pool and the outdoor dining table seats up to 20 guests! Do not hesitate any longer and rent this luxurious villa near San José.
This wonderful family house for rent in San Carlos will impress you
There are also excellent properties for rent in San Carlos, which the Engel & Völkers rental department does not want to withhold from you. Check out this spacious family house for rent in the area of ​​San Carlos. Upstairs you will find a master bedroom and a fully equipped kitchen with access to the large outdoor terrace. There is also a pool with several sun loungers in the spacious chill out and terrace area with sun shade. The family house is surrounded by several gardens and is an excellent choice for your next vacation in Ibiza! From here you can reach the center of San Carlos in just 5 minutes by car, where you can find many cozy boutiques, bars and restaurants. (such as Bar Anita, where you can try the traditional Eivissa schnapps (Hierbas) made from herbs). Every Saturday you can visit and enjoy the famous "Las Dalias" market. This market is the meeting point of the modern hippie scene and by far one of the most traditional and popular places in the Sant Carles area. There are all kinds of things to discover and buy there: self-sewn fashion, self-designed jewelry and other handicrafts from around the world, a little bonus is the live music which creates a unique atmosphere. 
Last but not least: get to know this modern family house near Jesús
We would like to introduce you to another attractive property for rent near Jesús: with this beautiful family house for rent you are guaranteed an unforgettable vacation in Ibiza! From here you can reach the Talamanca beach and the village of Jesús in no time. You can also quickly get to the port of Ibiza or the airport. The lively village of Jesús also impresses with the Bon Lloc bar, which is also one of the oldest restaurants in Ibiza. Traditional Spanish dishes and delicious tapas are served here. If you want to enjoy a cold beer, the Bon Lloc is also in good hands. The Ascua restaurant is not far away. Tasty fresh dishes and excellent wine, gin and tonic and cocktails await you here. The owner will serve you personally! Do everything right with the rental of this family house near Jesús !  All rooms are bright and open and offer a magical view. The view of the harbor and the old castle on the other side of the bay is unique. The property is surrounded by green arable land and guarantees maximum privacy.
If you'd like to buy a house or a villa, please click here.