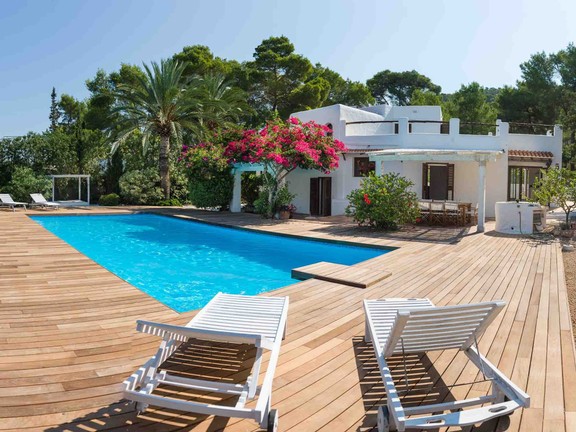 You want to spend a magical winter time in Ibiza? We have the right rental villa for you!
---
You spend your summer vacations in Ibiza on a regular basis. But have you ever considered spending the winter in a villa or rustic house on the island? Then it's about time, because the winter time in Ibiza is magical! It is best to take care of all the organizational matters in October when it comes to the long-term rental of a property in Ibiza. Let the estate agents at Engel & Völkers advise you comprehensively and competently. We know the most beautiful villas and rustic houses and offer outstanding properties from our portfolio, which are available for long-term rental. In October, it is quieter in Ibiza altogether and you will find a suitable rental property faster than during the main season.
Lots to experience in Ibiza during the winter season
Many reasons speak for the long-term rental of a rustic house or villa in Ibiza in winter according to our real estate agents. You can look forward to pleasantly mild temperatures and can expect an average of five rainy days per month. In addition, you can experience a variety of cultural highlights and without long waiting times. You can use the winter days on the island more effectively and look forward to a relaxed and quiet atmosphere. A special highlight of your stay in any case are the magical and colorful winter sunsets. Let yourself be fascinated by dreamy red, orange and purple tones and experience unforgettable moments. Popular activities on the island include guided hiking and cycling during the winter season.
If you rent a villa or rustic house, you should also explore the secret bays of Ibiza. In addition, the almond trees bloom in January and February and immerse the island in beautiful pink and white hues. In Santa Inés, a full moon walk in the almond valley will also be held in February. The flowers of the almond trees shine silver under the beautiful starry sky – a unique experience that you should not miss out on!
Rent this villa for your unforgettable winter in Ibiza
Our team at Engel & Völkers knows only too well that there are various attractive villas and rustic houses in Ibiza that offer long-term rental rates. We are pleased to recommend this first class villa in the heart of the nature reserve of Las Salinas close to Ibiza town. The spacious outdoor area of ​​the villa invites you to relax: Here you will not only find a large swimming pool, but also a well-kept Mediterranean garden. From the terrace you have an excellent view of the sea. In addition, this property has a fully equipped kitchen, three bathrooms, four bedrooms and five other rooms. Rely on the estate agents of Engel & Völkers and opt  for the long-term rent of this charming villa or another attractive object from our portfolio. Look forward to a wonderful winter time in Ibiza and find a rustic house or villa in October, where you will soon spend an unforgettable time.
If you'd like to buy a house or a villa, please click here.